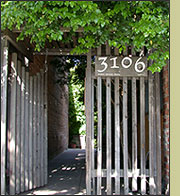 Our firm was established in 1974 by Max Jacobson and Murray Silverstein who had been colleagues at the Center for Environmental Structure in Berkeley and were among the authors of A Pattern Language. Barbara Winslow joined the partnership in 1981. Since 1995, we collaborated on many projects with the office of Helen Degenhardt Architect, and our firms merged in 2003.
Over the years, our firm has completed over 400 projects. These projects have been published in several books and in such magazines as Progressive Architecture, Fine Homebuilding, Sunset Magazine, Restaurant Design, Custom Home and The Architectural Review. The partners have written two books, The Good House (Taunton Press, 1990) which presents a design theory and uses many examples from the work of the office, and Patterns of Home: The Ten Essentials of Enduring Design (Taunton Press, 2002).
Fundamentally our concern is to create buildings of quality, appropriate to their settings, and satisfying to the people who inhabit them. We offer the full range of architectural services—from planning and program development, through design and construction documents, to on-site inspection. When appropriate, we act as design architects and form an association with local firms to complete work that is geographically remote. We work at all scales—from additions and remodeling through complete buildings or building complexes, to community plans.