Master of Leaves: A new book of poetry by Murray Silverstein. Please join Murray for his 2014 reading. Details below:

May 5, 2014: Book Passage @ 7:00 PM, 51 Tamal Vista Blvd., Corte Madera
Introducing a new book, "Invitation to Architecture," by Max Jacobson and Shelley Brock. Join Max and Shelley at the upcoming reading (details below), including a slide presentation and book-signing. They have had a wonderful time working on it together and are looking forward to sharing it with all of you.
May 7, 2014: Mrs. Dalloway's @ 7:30 PM, 2904 College Ave., Berkeley
The Courtyard House: A Berkeley Hills home designed by Helen Degenhardt featured in Diablo Magazine.
Architect Carves Niche in Spiritual Design: Zen buildings designed by Helen Degenhardt featured in the San Francisco Chronicle.

Photos: Brant Ward
Gravity Film Heat Echange (GFX) system in Green Gulch Farm dormitory featured in technology section of Fall 2013 EcoHome Magazine.
We are proud to share that our design work on Main Street Village in Fremont, California (co-developed by MidPen Housing and Allied Housing) has been awarded a 2012 EcoHome Design Award.

Photo: Adrian Schulz
San Francisco Zen Center's Green Gulch Farm Student Housing, designed by JSW/D, finally received certification as a "Passive House" in late June 2012. If you haven't heard of this European concept, the Passive House concept represents today's highest energy standard with the promise of slashing the heating energy consumption of buildings by up to 90%. A Passive House is a very well-insulated, virtually air-tight building that is primarily heated by passive solar gain and by internal gains from people, electrical equipment, etc. Energy losses are minimized. Any remaining heat demand is provided by an extremely small source. Currently there are fewer than 50 buildings in the U.S. that meet Passive House standards; JSW/D is proud to be at the forefront of this eco-friendly building movement. View details at the Passive House website and learn more about similar projects, learn more on our Green Gulch Farm Housing project page, or view the Passive House Certification.

Photo: Adrian Schulz
JSW/D is honored to be the recipient of the 2012 Berkeley Architectural Heritage Association Preservation Award for our work on Canterbury House, completed in 2012.

Photo: Keith Baker
New sanctuary design for Niles Discovery Church, May 2012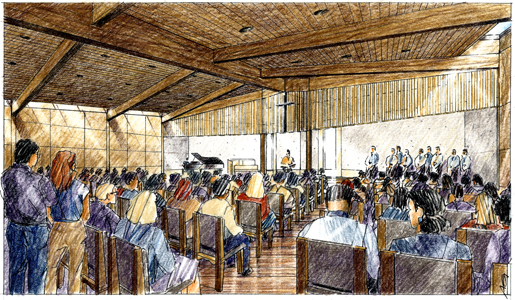 Illustration: Anthony Grand
Ribbon cutting for Lillie Mae Jones Plaza, October 2011
"LMJP brings 26 high quality, affordable apartments for families and individuals in the Iron Triangle neighborhood of Richmond. The project represents a successfull joint venture partnership between Community Housing Development Corporation and East Bay Asian Local Development Corporation. Residents enjoy environmentally sustainable amenities, and supportive services are available on site for individuals living with a disability. Completed in July 2011, the building is named after a respected local activist and promises to honor her legacy by providing a healthy and vibrant place to live."
Main Street Village completed, September 2011. Fremont's MSV received the highest Build It Green "GreenPoint" Rating to date in California. Learn more about the rating on MidPen Housing's website.

Photos: Adrian Schulz
New campus of the Through The Looking Glass ChildCare Center has been completed as of November 2011.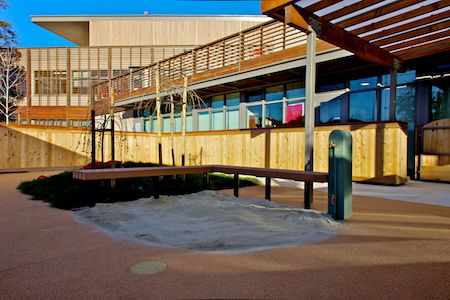 Photo: Lia Roozendaal/ Jagwiredesign.com
JSW/D was the architect for a new residence incorporating Berkeley's first permitted residential rainwater installation. The 2,500 gallon underground collection tank will supply all non-potable water needs - toilets and washing machine. Annual water savings are projected at 12,000 gallons/year, with the system paying for itself in 10-12 years. The system was featured in the June 9, 2010 issue of the East Bay Express.

Photo: Jetton Construction