Patterns of Home: The Ten Essentials of Enduring Design, by Max Jacobson, Murray Silverstein, and Barbara Winslow
The key to creating a house that is memorable, satisfying, and enduring is to apply a group of design concepts—or patterns—that focus on the experience of being in a home. Buildings designed using this approach can be of any style, fit any site, and suit any size of family or budget. The patterns are the essential tool for anyone intending to buy, build, or remodel a home—and a dreamer's guide for those whose plans are just beginning.
"The architectural advice contained in this thoughtful book is both insightful and practical, but the range of beautifully designed homes that illustrate Patterns of Home is a real treat."
—Witold Rybczynski, author of Home and The Look of Architecture

Purchase this book at Taunton Press or Builders Booksource.
The Good House: Contrast as a Design Tool, by Max Jacobson, Murray Silverstein, and Barbara Winslow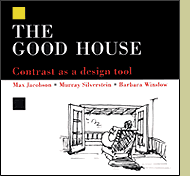 What makes a "good" or successful house design? In this book, the answer is contained in the idea of linked contrast. In everyday language, the authors explain their theory: how strong contrasts—opens spaces combined with closed spaces, light with darkness, simplicity with complexity, order with mystery—can be orchestrated to produce harmony in a living environment.
Purchase this book at Amazon.com.
Design for Independent Living: The Environment and Physically Disabled People, by Raymond Lifchez and Barbara Winslow
This book has an unusual approach to environmental design, in that it overlaps with sociology and anthropology. It builds empathy with a group of people with whom most designers have no familiarity. This not only can increase our respect for wheelchair-bound disabled people and stimulate an intention to include them in society and the built environment, but can also promote an attitude of awareness towards special groups in general—children, the poor, the elderly. Our definition of the norm is enlarged.
Purchase this book at Amazon.com.
A Pattern Language: Towns, Buildings, Construction, by Christopher Alexander, Sara Ishikawa, Murray Silverstein, Max Jacobson, Ingrid Fiksdahl-King, and Shlomo Angel
At the core of this book is the point that in designing buildings, people rely on certain "languages," which like the languages we speak, allow them to articulate and communicate an infinite variety of designs within a formal system which gives them coherence.
This book provides a language of this kind. It enables a person to make a design for almost any kind of building, or any part of the building environment.
"Patterns," the units of this language, are answers to design problems: How high should a window sill be? How many stories should a building have? How much space in a neighborhood should be devoted to grass and trees? More than 250 of the patterns in this pattern language are given. Each consists of a problem statement, a discussion of the problem with an illustration, and a solution. Many of the patterns are achetypal, and are so deeply rooted in the nature of things that it seems likely they will be a part of human nature, and human action, as much in five hundred years as they are today.
Purchase this book at Builders Booksource.