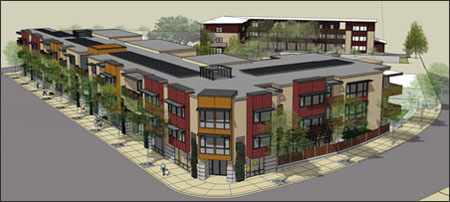 This large project is designed for an irregularly shaped site, located in the Irvington district of Fremont, adjacent to a future BART station. It consists of 64 units of affordable housing, with accompanying underground parking and ground floor commercial spaces and support services offices.
The program is contained in two L-shaped 3-story buildings, arranged around a large central landscaped area for the use of all residents, featuring a small play area, and low maintenance, drought resistant plant materials. The project also incorporates a rooftop photovoltaic system.
Completion is scheduled for August 2011.